New Metronix ARS 2000-FS series servo positioning controller 
The ARS 2108 servo positioning controller is the first implementation of the new (3rd generation) hard-ware and firm-ware platform for the ARS 2100 family of servo drives. Following on from the ARS 2102 and 2105 drives, the ARS 2108 extends the range up to 1.5kVA.
The ARS 2108 is an intelligent AC servo inverter for operation direct from a single-phase mains supply. It is flexible and can be easily adapted to a number of different applications, with many adjustment and expansion options. 
The next generation ARS 2000 series offers a host of improvements as a direct response to advances in technology, user input and the broadening implementation of servo systems.
The next generation ARS 2000 series offers a host of improvements as a direct response to advances in technology, user input and the broadening implementation of servo systems.
The new ARS 2000 benefits from a faster processor with approx. 60% improvement in clock speed, to 20kHz.
Increased processor speed has provided a great improvement in areas such as current, speed and position loop cycle times. The current loop time is now reduced to 31.25µs. This has also had an effect on Field-bus performance with cycle times down to 125µs for SERCOS II.
The improved processor performance has further benefits such as stiffer control loops and higher gains, giving a much tighter servo control. This is particularly important for applications implementing torque and linear direct drive motors. Asynchronous motors can also be controlled.
The improvements in the power stage have resulted in higher peak current output. Again, responding to new applications in direct drive motor technology and advances is servo motor designs, the new ARS 2000 provides up to 4 times nominal current for up to 0.5s.
These developments have also resulted in the new ARS 2108 servo drive. The drive is suitable for operation off single-phase mains, 100-230Vac or 60-320Vdc and provides 8 Amps continuous current, up to 32 Amps peak (0.5s).
In addition to the performance improvements, the revised ARS 2000 range also provides:
Analogue measurement of the motor temperature
USB Interface
Support for SSI signals (absolute measuring devices), in preparation
Pulse+Direction Interface via digital O/I
CANbus Termination Resistor integrated
High Peak current, 4 x nominal
ARS 2108 with 8 Amps continuous from single-phase mains supply (1.5kVA)
Current loop time reduced to 31.25µs
Cycle times of 125µs for SERCOS II
Due to the integrated Power Factor Correction the device already fulfils the standards according to EN 61000-3-2 (limitation of mains current harmonics).

In addition to speed and torque control, positioning, speed and angle synchronisation with electronic gear, the CANopen protocol DSP402 allows the implementation of contouring controls with linear interpolation as well as time-synchronised multi-axis applications.

The ARS 2000 communicates with PLCs via Fieldbus like the integrated CAN Interface or Fieldbus options, e.g. Ethernet, PROFIBUS or SERCOS.

The servo positioning controllers can be used universally since they can be connected to various encoder systems and motor types.

With the menu-driven configuration tool Metronix ServoCommanderTM and the automatic motor identification, the ARS 2000 quickly and comfortably adapts to your requirements.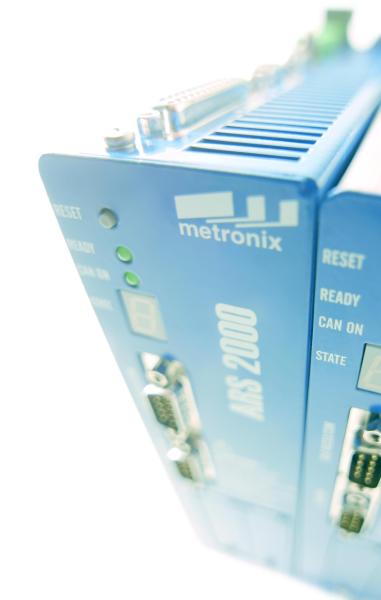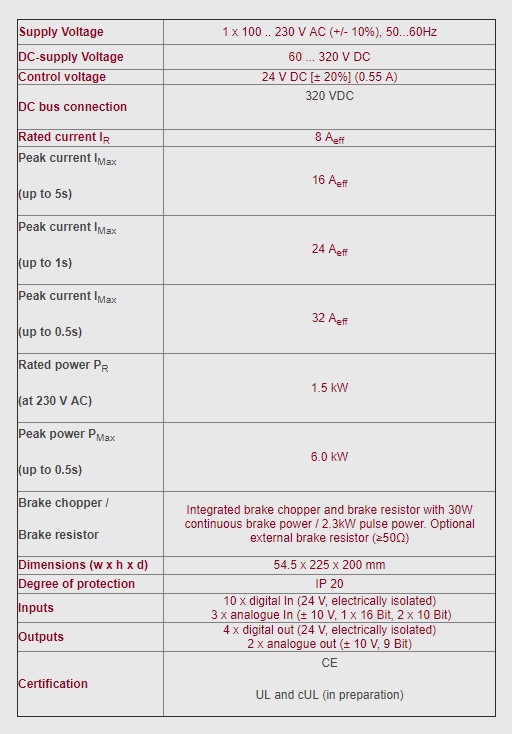 The ARS family of drives can operate with rotary, linear and torque motors alike. Suitable feedback devices include, Resolver, Incremental Encoder, Stegmann SinCos encoder (single-/ multiturn) with Hiperface, high resolution Heidenhain encoder as well as multiturn absolute encoder with EnDat interface.
RS232 (RS485) and CANopen (as per DSP 402) are standard interfaces on the ARS 2000 drives family. In addition the drives feature 2 extension slots, which can be populated with any of the following:
•ProfiBUS-DP
•Ethernet (TCP/IP)
•Sercos
•Sercos II
•EtherCAT
•DeviceNet (in preparation)
•Additional digital I/O
•Service module (Memory)
Do you have a query or an application you want to discuss?