The MC4N supports up to 32 axes of motion with 64 bit integer position registers for ultra precise axis resolution. EtherCAT slave drives and I/O can be connected and run in cyclic synchronous position, speed or torque modes provided these are supported by the drive
The built-in Ethernet port allows programming and connection of common PLC and HMI protocols, including the Trio Uniplay range of HMIs, directly to the MC4N. User programs can be written in Trio's established multi-tasking TrioBASIC language using the powerful Motion Perfect v4 application development software making complex motion easy. The industry standard IEC 61131-3 languages are available as an option, allowing a fully functional PLC programming system.
Up to 32 EtherCAT Digital Drive Axes
Supports Position, Speed and Torque Drive Modes
Up to 1024 EtherCAT I/O
EtherCAT CoE protocol to CiA402
Linear, Circular, Helical and Spherical Interpolation
Flexible CAM shapes, Linked Motion
Isolated Encoder Port
Biss, EnDAT and SSI Absolute Encoder Supported
Hardware Linked Output for Camera / Laser Control
Ethernet-IP / Modbus TCP / Trio ActiveX / Uniplay HMI / UDP / Ethernet Interface Built-In
Precise 64Bit Motion Calculations with 532MHz ARM 11 Processor
IEC 61131-3 Programming
Multi-tasking BASIC Programming
Text File Handling
Robotic Transformations
4 high speed registration inputs
Isolated RS232 and RS485 ports
SD Memory Card Slot
EtherCAT I/O Expansion
CANopen I/O Expansion
Backlit LCD Display
RoHS and CE Approved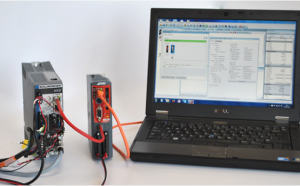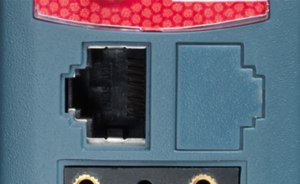 The P900 has 2 built-in EtherCAT axes which can be user upgraded with the purchase of P912 Remote Axis FECs.
Each P912 doubles the available axes
P900 + 1 x P912 = 4 Remote Axes
P900 + 2 x P912 = 8 Remote Axes
P900 + 3 x P912 = 16 Remote Axes
P900 + 4 x P912 = 32 Remote Axes
The MC4N can be purchaced with axes factory loaded:
P900 = 2 Axes
P901 = 4 Axes
P902 = 8 Axes
P903 = 16 Axes
P904 = 32 Axes
Every axis can be programmed to move using linear, circular or helical or spherical interpolation, electronic cams, linked axes and gearboxes. The power of the controller allows for multiple robotic transformations to run simultaneously.