The servo drive product family ARS 2000-FS follows the Metronix ethos of providing "universal" servo drive products that can be quickly adapted to the needs of the customer. The new "functional safety" version combines the main features of the original ARS 2000 drive series with some new benefits.
CANopen interface, DSP 402
Integrated EMC filters, additional costs for external line conditioning and additional installation costs for wiring can be avoided.
The integrated, multi-function encoder interface supports a wide range of available encoder systems including resolver, hall-sensors, quadrature encoder, sinusoidal encoder, Hiperface and EnDat 2.1 and 2.2.
Compact design with integrated line and motor filters.
Excellent price-performance ratio.
RS 232 interface (replaced with EtherNET and USB)
Integrated Power Factor Control
Expansion slots for additional Technology Modules, such as FieldBUS (ProfiBUS-DP, NEW! ProfiNET, Sercos and EtherCAT) and extended IO 
The FS servo drive range is available for single (100 to 230Vac) and three (230 to 480Vac) phase mains operation, with the following ratings:
Single phase ARS 2100-FS
ARS 2102-FS, 2.5A continuous, up to 10A peak
ARS 2105-FS, 5A continuous, up to 20A peak
ARS 2108-FS, 8A continuous, up to 32A peak
Three phase ARS 2300-FS
ARS 2302-FS, 2.5A continuous, up to 10A peak
ARS 2305-FS, 5A continuous, up to 20A peak
ARS 2310-FS, 10A continuous, up to 40A peak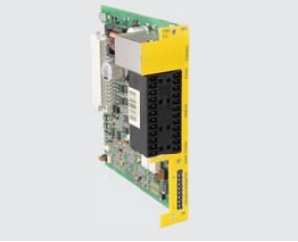 Optional safety module FSM 2.0 MOV
Standard FBA module                                                               Optional safety module FSM 2.0 STO

• Machine tools
• Packaging machines for the following areas:
– Consumer and industrial goods
– Food products
– Medical and pharmaceutical products
• Medical and laboratory technology
• Automotive industry
• Assembly and handling technology
• Robotics
• Wood working machines
• Automation
• Printing and paper processing industry
• Textile industry
• Palletiser
• Injection moulding machines
• Retrofit
• Special purpose machinery engineering
Do you have a query or an application you want to discuss?