Metronix - ARS 2300 series
The ARS 2000 servo positioning controllers (ARS servo 2nd generation) are intelligent AC servo inverters for operation direct from a three-phase mains supply. They are flexible and can be easily adapted to a number of different applications, with many adjustment and expansion options.
In addition to speed and torque control, positioning, speed and angle synchronisation with electronic gear, the CANopen protocol DSP402 allows the implementation of contouring controls with linear interpolation as well as time-synchronised multi-axis applications.
The ARS 2000 communicates with PLCs via Fieldbus like the integrated CAN Interface or Fieldbus options, e.g. Ethernet, PROFIBUS or SERCOS.
The servo positioning controllers can be used universally since they can be connected to various encoder systems and motor types.
With the menu-driven configuration tool Metronix ServoCommanderTM and the automatic motor identification, the ARS 2000 quickly and comfortably adapts to your requirements.   
560 V DC bus voltage
2.5/7.5A, 5/15A, 10/20A, 20/41.5 A and 40/70A rated / peak current
Integrated EMC filter
Integrated brake chopper, external brake resistance can be connected
Separate 24 V DC supply for controller unit
3 analogue set point inputs, 1 x 16 bit / 2 x 10 bit
Fieldbus interface CANopen user profile as per DSP402
Control via digital I/O
CE, UL and cUL certified
Three phase servo drive to 20kW
Direct-on-line operation
Simple commissioning through software wizard
Extensive I/O
Expansion for I/O, Fieldbus, Feedback
RS232 (RS485) and CANopen (as per DSP 402) are standard interfaces on the ARS 2000 drives family. In addition the drives feature 2 extension slots, which can be populated with any of the following:
PROFIBUS-DP
Ethernet (TCP/IP)
Sercos
Industrial Ethernet
DeviceNet
Additional digital I/O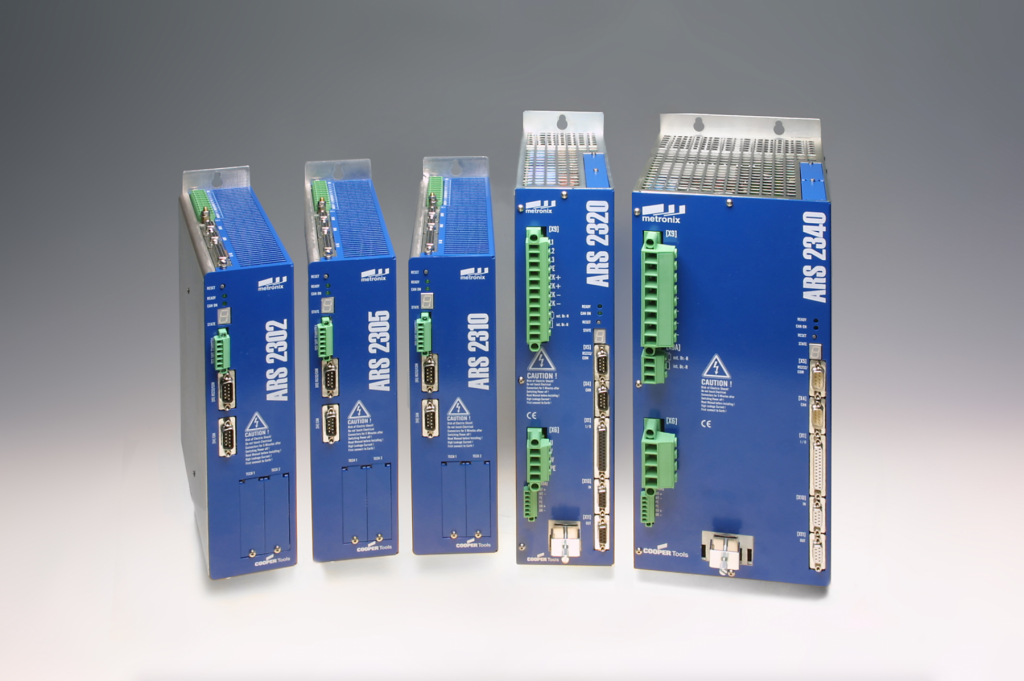 Universal encoder interface
The ARS family of drives can operate with rotary, linear and torque motors alike. Suitable feedback devices include, Resolver, Incremental Encoder, Stegmann SinCos encoder (single-/ multiturn) with Hiperface, high resolution Heidenhain encoder as well as multiturn absolute encoder with EnDat interface.
Technical Data ARS 2302 … ARS 2310

Technical Data ARS 2320 and ARS 2340

Do you have a query or an application you want to discuss?